Join me on my next workshop
Starting a business: the sole trader's introduction to getting it right first time
Next workshop:  date to be confirmed
Where:  The Workstead, Kingsworthy, Winchester, SO23 7QN
Time:  9.30 to 12.30am
Spaces available:  6
My promise to you:
You've had the idea to start a business and are full of excitement.
It's taken courage to decide to reinvent yourself, to become your own boss. Your purpose goes beyond profit so you can't wait to get started, to build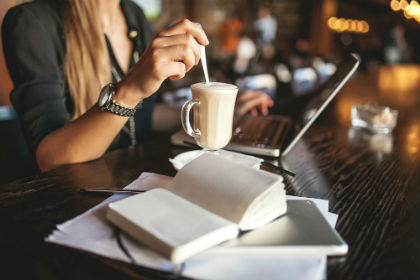 a sustainable business and enjoy the freedom that self-employment promises. But right now your to-do list is getting you down. There's your 'big idea' but then there's all these other annoying parts of the jigsaw puzzle
that need to come together too. There's the marketing, the accounting, the record keeping and getting your head around HMRC and tax. You know there are legal obligations and you feel frustrated that you can't really gain momentum until you've got this part figured out. Can you relate?
Perhaps you've bought the yellow 'Dummies Guide' to Starting and Running a Business, read a few websites, tried to figure out what your friends are up to.
But the problem you've probably already encountered with this is that it can really eat into your (already-limited) time.
And there's so much information out there. So much conflicting information. It's too general and it's riddled with words you don't fully understand.
Thankfully there is another way.
Just imagine if someone had already done all the hard work for you. Wouldn't it be a relief to have someone dependable explain to you in plain English how to get the tax, accounting and record-keeping bit squared away from the outset so you could crack on with the fun bit?
Hi. I'm Karen

and I'm passionate about helping you to hang on to more of your hard-earned money – by demystifying what's expected of you and explaining which healthy habits to establish from the beginning.
That's why I created
'Starting a business: the sole trader's introduction to getting it right first time.'
It's a workshop for sole traders in your first year of business and it's meant to help you shift from bewilderment and frustration to clarity and momentum.
Here's what you'll learn:
Should you set up as a sole trader or a limited company
How to register as a sole trader and what you need to do to comply with the law
How to price your product or service
How to prepare your first invoice
How to prepare and maintain a simple record keeping system
How to keep more of your hard earned income
Which taxes you will have to pay and the self assessment system
How to prepare a cash-flow and budget statement for your business
Where and how to go about sourcing funding for your business
An introduction to what you can and cannot claim (tax wise) for your small business
How to save accountancy fees
How to avoid the common financial pitfalls most sole traders make
 This workshop could be a fit for you if:
You're making the leap into self-employment
You're still in creating mode, experimenting, finding your way
You're in the first few months of running a business
You'd like to run your accounts yourself (at least initially)
You want to get clearer about your legal obligations
You want to establish healthy habits from the outset
Next workshop:  date to be confirmed
Where: The Workstead, Kingsworthy, Winchester, SO23 7QN
Time: 9.30 to 12.30am
Spaces available:  6
My promise to you:
I promise to give you my very best but I cannot promise you specific outcomes. What you do with what I share will depend on you, and where you're at right now in your business and in your life. So, there are no refunds and no guarantees. Do save your receipt, though, as this is a tax-deductible business expense for you.
Still not sure?
I'm happy to answer any questions before you buy.
You can read what others have said about the workshop here