You're a small business owner managing your own bookkeeping using Excel. But recently, the complexity of the business has changed. You're trying to muddle through with the same old processes and procedures but inside you're crying out for some order, some structure (and a bit of a breather). Can you relate?
When it's OK to use Excel
Providing you have a certain level of expertise, some previous experience in using Excel and the number of transactions (ins and outs) are roughly less than ten each month, Excel can be a great choice when you're starting out or running a hobby business.
But when your business starts to grow,
the volume of paperwork mounts and you know deep down that you don't really have a handle on how your business is doing or who owes you money, then online accounting software may well offer you the panacea you are looking for.
What is online accounting software?
In the past, small business owners have often become very frustrated using off-line (desktop) accounting software because it's difficult, non-intuitive and designed for accountants.
This blog focuses on the merits of a different type of software called online accounting software which you can access via your web browser without having to load up software onto your computer.
Your financial data is backed up automatically and stored safely (in the cloud)
Software updates (which take into account new accounting rules and regulations) are done automatically.
Most online accounting software companies ask for payment via monthly subscription (Xero, Kash-flow, Free-agent and QuickBooks) but are there some free versions with basic functionality (Wave or Brighbooks)
So, what can online accounting software do for you that Excel can't
1 – Easier to use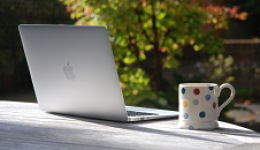 Unlike Excel, where you'll need a certain level of technical ability, online accounting software is simple to use, easy to learn and very intuitive. You don't need to be a technical whizz or have a background in accountancy.
The software is written with the business owner in mind and uses non-accounting jargon. You'll actually find it that it takes less effort to get all your information into online software than onto a spread-sheet.
 2 – Clear picture of your finances
Keeping track of how your business is doing and having a handle on your numbers is vital if you want to make the best decisions to help your business become more profitable.
Your software will very easily link to your bank and credit card accounts which mean you can keep track of how much money you have by checking bank balances in real-time via your software. You won't need to look up bank statement transactions or balances on another site
You can see how your business is performing by looking at the profit and loss report which will show you what your income and expenses are for a selected period and whether or not you are actually making money. If you are selling different products you can very easily track which product lines are more or less profitable. Provided that you have keyed in all receipts and invoices this reporting is immediate
You can readily see which customers owe you money and which suppliers you owe money to. Having this information at your finger tips will put you in a much better position to manage your cash-flow.
3 – Invoicing and getting paid by customers
Are you currently invoicing your customers using a template in Microsoft Word or Excel? Are you spending hours moving between Pay-Pal , credit card accounts and your Word documents? By using online accounting software to do your invoicing you'll save a lot of time as well as sanity.
Professional looking invoices customised with your brand are really easy to produce and send to your customers via email. If you are invoicing the same customer regularly you can set up recurring invoices to be created automatically.
All the invoiced amounts are automatically posted into your accounting records and when you receive payment from your customers you can easily allocate the amount received to the original invoice. Customers who owe you money are readily highlighted and follow up emails are easily initiated.
Making it as easy as possible for your clients to pay you is a sure fire way of encouraging faster payment from your customers. "Pay now" buttons linked to Pay Pal or credit cards can easily be added onto your online invoices.
4 – More accurate record-keeping
The more numbers you try and enter onto your spread-sheet the more unwieldy it becomes and more prone to error. Of course you should always check the accuracy of your records by reconciling (checking) your transactions back to the bank statements but this can be an incredibly time consuming process if done manually.
Online accounting software allows bank data to be downloaded into your software overnight. Bank transactions can then be matched with minimal effort to your own entries in the accounting software. If done regularly your cash balance will be an accurate and real-time reflection of your business activity.
5 – Tax is more straightforward
Online accounting software automates many of the tax processes and with the growing emphasis on e-filing and submitting records electronically, having online accounting software in place can save you time and make the process very straightforward.
VAT returns can be simply and automatically produced and filed with HMRC
For sole traders, a future development in the pipeline is for self-assessment returns to be replaced by digital tax accounts (detail is in my blog post here). HMRC are currently working on linking digital tax accounts by API's (application program interfaces) to online accounting software, making the year- end tax process more accurate and less time consuming. If you are using online accounting software you'll be one step ahead of the game.
6 – Links to other business applications
With online accounting software you will be able to synchronise with other useful applications specific to your business. Here are some examples: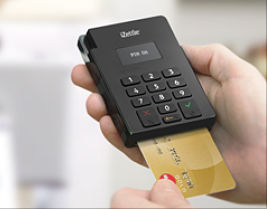 If you are out and about taking payment from customers you can use Izettle which syncs perfectly with Xero, meaning that when you take payments from customers, the information can feed directly into your accounts without you having to manually key in data.
If keying in invoices and receipts is really not your thing you can save time by using Receipt bank , a great application allowing receipts to be scanned and automatically uploaded into your accounts. Receipt bank syncs with most of the online accounting software packages.
Most of the main online software companies have developed apps that allow you to photograph receipts and attach the image to an expense claim form.
7 – Non-financial benefits
Using accounting software is not just about numbers. You have a readily accessible database of customer information which you can very easily extract and use for marketing purposes.
let's review the benefits of using online accounting software over using Excel
Simple and easy to use. You don't need to be an accountant
Time saving – in checking data to the bank, invoicing customers, entering your accounting information
Information to help you see the big picture and guide you in making the best decisions for your business
Your accountancy bill should be lower because the entries are in a very readable format, the reconciliation (checking) processes are more efficient and your accountant can very easily access your figures
Should you ever have HMRC come knocking on the door, you will have all the necessary records at hand to comply with your tax and record keeping obligations
Want to know more about online accounting software?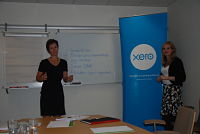 Come along to a FREE presentation and networking event on 11th November at 5.30pm, Basepoint in Winchester.
I will be co-presenting with Michael Warner and Company on an "Introduction to Xero"
To register, please reply to Charlotte Bellfield – Charlotte@michaelwarner.co.uk. Places are limited, so do get in touch quickly.  We'd love to see you there.
If you have any other questions you can drop me a line here or give me a call on 07596 516670